Tonight, we braved a pretty chilly Cincinnati evening to walk down to US Bank Arena to take in our eighth Cyclones game of this season so far. It was a very rare Monday night hockey game for the 'Clones. We're thinking tonight's game must have been rescheduled from earlier in the year. Nevertheless, MONDAY NIGHT HOCKEY!
There were a lot of people at US Bank Arena for some Monday night hockey...
At the end of the first, the Cyclones trailed the Evansville Icemen 1-0...
WHO WANTS A T-SHIRT?!
Back to the hockey...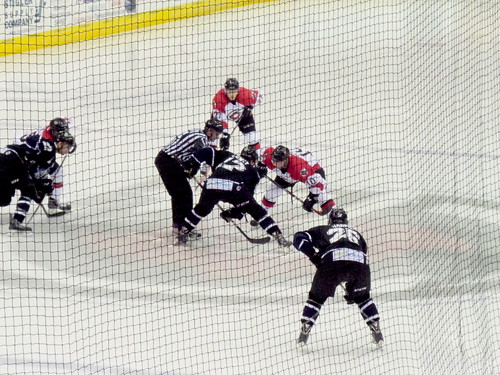 TIE GAME!
And then something crazy happened. Something we've never seen before...
The 'Clones tallied three goals in one-minute and four seconds! Yes, you read that right...
3 goals in 1:04!
It was just BANG! BANG! BANG!
3 goals in 1:04!
And the third and fourth goals were just 16 seconds apart! WOW!
At the start of the third period, it was Cyclones 4 Icemen 1...
The Cyclones exchanged goals with the Icemen in the third...
There were a number of fights in the game including one with just 16.6 seconds left...
And the Cyclones win! 5-2! It's the second win in a row for us at Cyclones games!
I couldn't imagine a better way to spend a chilly Monday night in downtown Cincinnati! :)