Today we went to our Sunday church at GABP to see the Reds take on the Atlanta Braves.
And right off the bat, BARGE!
Former Red, Aaron Harang was on the hill for the Braves...
Bases loaded for the Reds...
Ludwick...
Ludwick sac flied to right to drive in Frazier. Pena singled to drive in Bruuuuce...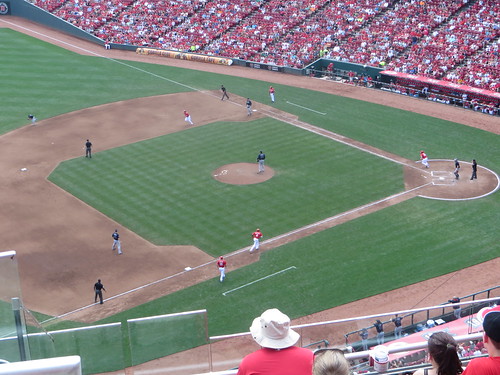 The Reds had them loaded again...
For Cozart...
He ground out but Bruuuuce scored. BARGE!!
Later, Frazier added a solo shot!
The Big Pasta threw 7 strong innings of 1 run 5 hit ball...
Enter Jumbo Diaz...
And he got the Redlegs out of the inning...
Cozart went 3-4 with 2 RBI...
The Braves Jason Heyward...
Big Jonathan Broxton...
Oh dear...
Oh dear oh dear...
But Broxton finally got it sorted out to secure the Reds win...
Another great Sunday church at GABP! :)